a

rt cl

a

sses fo

r

eve

r

yo

n

e!
"Your school is so welcoming! Taking a class here is wonderful!" Student, beginning acrylic painting —see adult art classes
Grades: K-8
Nurture your child's creative curiosity and self-expression through art and art-making.
Our children's program is known for its comprehensive studio art experience with classes in drawing, painting and mixed media/sculpture designed to develop skill with materials and knowledge in artistic concepts. All students maintain a portfolio of work, which provides opportunities to analyze and discuss important works on display. Our small class sizes and dedicated instructors allow students to have fun experimenting with materials while learning how to express personal viewpoints and create well-crafted art.
December Vacation Week Workshops
In these two-day mixed media workshops, students will have fun exploring art materials while being inspired by Animals in Art.  Our workshops are designed to allow students to express their own ideas while learning a little about art and having fun with friends. There are two 3-hour classes each day with a 1-hour lunch break.
* Extended hours available at additional cost
Grades: Teens
Designed to advance skills and develop personal viewpoint.
Our program for High School students focuses on providing more advanced instruction in drawing and painting, allowing each student to begin the process of developing a personal viewpoint. Instructors encourage students to explore ideas and content as well as refining skill with various media. Strategies for enhancing portfolios will also be explored.
Grades: Adults
In-depth learning of fundamental skills and techniques for adults of all levels.
We offer five levels of study suited to everyone from absolute beginners to those developing their own body of artwork. Students may remain in any level for as long as they would like; instructors will adjust lessons to accommodate new and returning students. Our diverse faculty pool allows students to study painting, drawing and other media with instructors from many backgrounds and perspectives.
adult classes at a glance
Fall one & two-day workshops enrolling now
Saturday, Sept. 28
Saturday, Oct. 5
$75
Saturday, Oct. 19
Saturday, Oct. 26
Saturday, Nov. 2
$100
Saturday, Nov. 16- Sunday Nov. 17
$175
Useful Information for students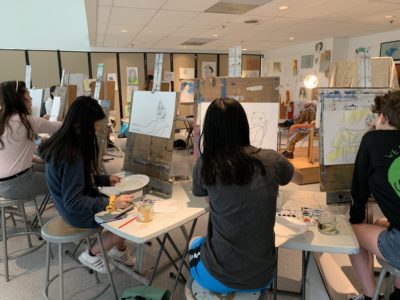 We are located at 14 Vernon Street, in the Jonathan Maynard building. We are the large brick building overlooking the Framingham Centre Common. There is ample free parking in the lot to the rear of the building. Please take the elevator in the lobby to floor 3.
Danforth Art School is generally open during class hours which varies by session. School staff are often assisting students and teachers so may not be able to answer your call, but we will be sure to respond as soon as possible. If you would like, please call to make an appointment: 508.215.5116. The school will be closed on the following dates / holidays:
Mon. Sept. 2
Mon. Sept. 30
Tues. Oct. 1
Wed. Oct. 9
Sat. Oct. 12
Mon. Oct. 14
Sat. Nov. 9
Mon. Nov. 11
Wed. Nov. 26 – Fri. Nov. 29
Mon. Dec 23- Wed. Dec 25
Tues. Dec 31- Wed. Jan. 1
Do you prorate or offer refunds?
Danforth Art reserves the right to cancel any class, to change instructors, or to reschedule individual classes as needed. We are unable to offer make-up classes if students are absent. Full refunds will be made if a class is canceled by Danforth Art.
Students wishing to cancel a registration must contact the school. Refunds will be given as follows: if the cancellation occurs after the first class, we will refund 80% of tuition cost; after the second class we will refund 60% of the tuition cost; after the third class, there is no refund. Exceptions to this policy can be made only in the event of an emergency. Class tuition is not prorated due to student absence. In the event of inclement weather, cancellations will be posted on our website and phone by 8 am.
Danforth art school provides all supplies for children's classes. We also provide supplies for beginning level adult classes for the first meeting. Supplies suggested for all other classes will be provided on the class description page.
I don't see my question here, what should I do?