Exhibitions currently on view at the Danforth.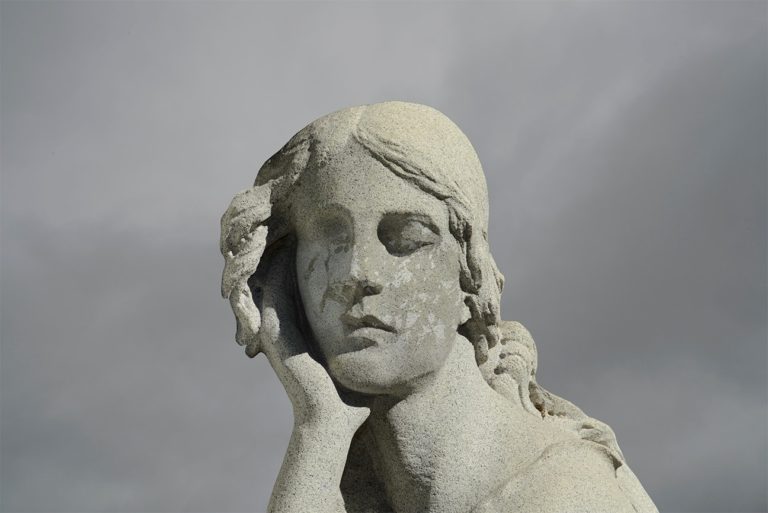 September 19, 2020 - February 28, 2021
Katherine Gulla's work has long been about the natural world and how we move through it.  Passage presents work from three series—Path, Falling, and Fossil—whose names imply the process, travails, and remnants of the journey the artist envisions through her work.  Walks through places like the Arnold Arboretum, contemplative in their own right, become abstracted forms that transcend the natural world.  Funerary monuments are separated from their context and juxtaposed with natural patterns, whose androgynous figures mirror how we imprint ourselves on the landscape once we are gone and they are what remains.
Rebecca Hutchinson: Midnight Blooms
September 19, 2020 - February 28, 2021
Rebecca Hutchinson's work is a unique response to the natural world. The blooms that she creates from handmade paper, ceramics, and recycled materials fill spaces, are abundant and slightly overwhelming, and tower around and above the viewer. These are works about survival, and how nature adapts to its circumstances. But taken together, the overall experience of Hutchinson's forest of blooms is quiet, muted, and calming.
Midnight Blooms is work for a time in which we are turning to nature for the solace it can provide but remain filled with uncertainty for the future. Hutchinson describes her work as "speaking to the depth and complexity of living with the hopes of revealing the human condition in sculptural form," and her installation balances human fragility with resilience and strength.