B

e

y

o

nd

o

ur W

a

lls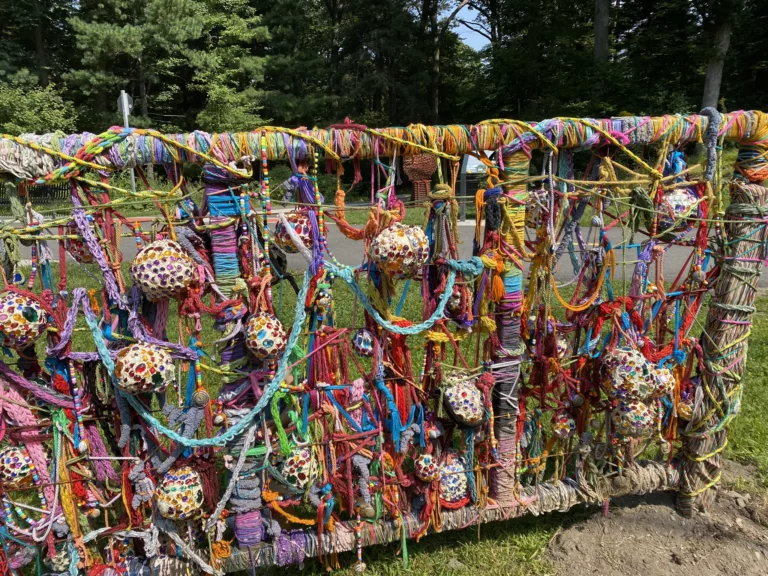 Our Mission Statement: The Danforth Art Museum and Art School at Framingham State University is an innovative cultural resource serving the region by enriching our community with opportunities for transformational art experiences. We exhibit, collect and teach through dynamic and responsive programming. With a welcoming environment in our studios and galleries, the Danforth inspires and engages through art.
When you visit the Danforth Art Museum you see some of the best contemporary art in New England curated by Jessica Roscio and Rachel Passannante.
We don't want to stop at the Museum walls. Our hope is to connect with artists in the community and provide additional exhibit space for the arts. This desire has led us to launch Beyond Our Walls — a virtual gallery to highlight and involve more artists from Framingham and the surrounding communities. We believe this a way to broaden the opportunities to inspire and engage through art.

Artist and Danforth Community Engagement Coordinator Mary Erickson will serve as a roving reporter by bringing you some of the art out in the world that speaks to her. Think of her as the curator of Beyond Our Walls. Please let Mary know if you have something you want to see on these pages. Merickson2@framingham.edu.
Art on the Cochituate Rail Trail!
I biked to work using the Cochituate Rail Trail (CRT) recently. It was a lovely day and on my way in, I was delighted to see two sculptures on the side of the trail. Of course I stopped to take a look at them; I looked around for signs about who the artists were and what project they were a part of — nothing yet. It was on the way home that I found information and many more sculptures!
This project by Studio Without Walls is called sum of its pARTS. Studio Without Walls is a Brookline-based collaborative group of sculptors and conceptual artists who produce exhibitions of art in outdoor and public settings. Since 1999, they have been educating audiences to appreciate, participate in, and become enriched by site-responsive sculpture, installation, and conceptual art. Sponsored by Friends of Natick Trails and the Natick Center Cultural District, Studio Without Walls made its debut in Natick!
Walk or bike the CRT to see the sculptures between Chrysler Road and Superior Drive in Natick, or park close by, hop on the path and check them out. The sculptures are on view September 9 – October 15, 2023.
For a map showing the exhibition area, pictures of all the sculptures, links to the artists' website and more, click here for Studio Without Walls' website.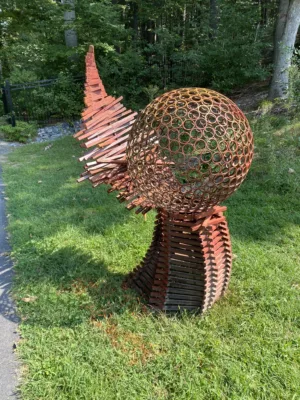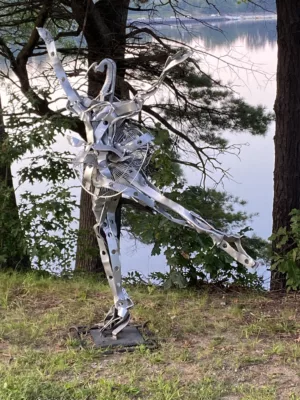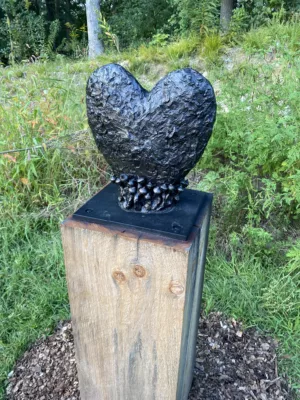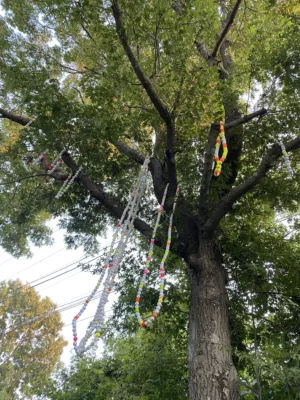 Young Artist with Many Talents
Jenna Riedl grew up in Framingham and has spent the last four years living in Boston while studying at Boston University. Jenna was a delight to talk with about her art and her many other interests. As she put it, "I like doing a lot of things." In fact, part of the reason she went to BU was it's great art program and that she could learn and do a lot of other things too. Along with her fine arts major, Jenna was a statistics minor and also in the honors college.
I first met Jenna when she went to McAuliffe Charter School with my daughter and Jenna's open spirit, talent and way of being in the world continue to amaze me!
Click here to read more and see Jenna's art.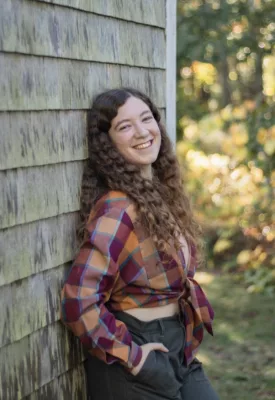 Artist with a Spirit of Love
Svetlana Burinskaya lives, creates, and teaches in her home in Ashland. She emigrated from Moldova 30 years ago. Svetlana and her husband came to America with their 5-year-old boy and only $9 in their pockets.
When we first met, Svetlana told me right away that she was shy, but she very quickly became comfortable and I loved listening to her wonderful stories about her life, inspiration, and art making!
Click here to learn more about Svetlana.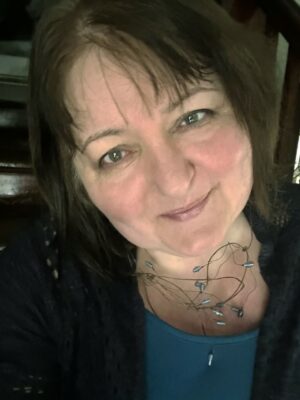 Murals Around Town
For my first adventure as our roving reporter, Rachel Passannante (Danforth Museum's Collections Manager) joined me to spend a sunny morning roving Framingham to photograph some of the public art in our town. After a stop at the Saxonville Mills Cafe & Roastery, we headed out to explore.  Click here to view the amazing murals around town!
To the artists whose work we photographed, we love what you are doing! We see your art and applaud it brightening our public spaces. Thank you for bringing your art to the city!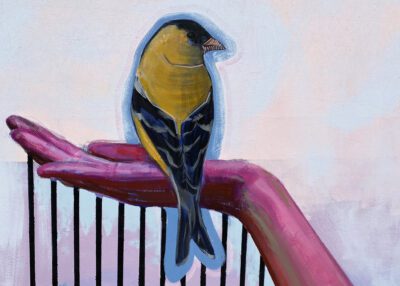 Donate to the Danforth — Your support helps fund exhibitions, programs and scholarships.