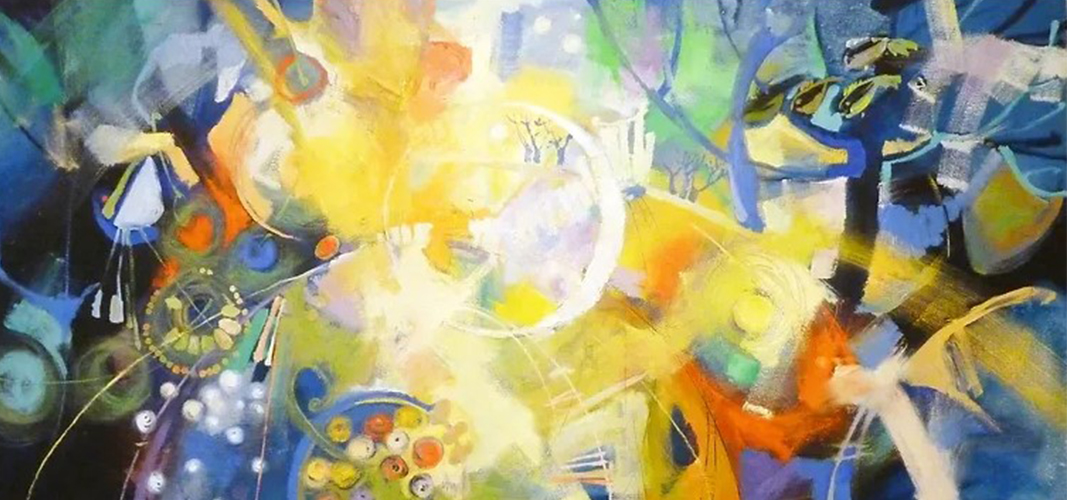 Saturday, June 17, 2-3 p.m.
Community Conversations through Art
Community Conversations through Art is a new three-part series where diverse artists are invited into the Museum to share selected pieces of their work with the audience as they talk about their art and process, and their involvement in their community. With time for questions at the end, guests will have the opportunity to have real conversations with the artists in an informal setting. 
Part 2 — Svetlana Burinskaya
Svetlana was our second Beyond Our Walls artist. When I first met her, I was captivated for several hours listening to her wonderful stories about her life, inspiration, and art making! Thirty years ago, Svetlana (she also likes to be called Lana) and her husband emigrated from Moldova to America with their 5-year-old boy and very little cash in their pockets. They now live in Ashland where Lana creates art and teaches classes.
When Lana talks about her art, she absolutely lights up! Her work is inspired by dreams, memories from her childhood in Moldova, and the beautiful landscape there. Although her paintings would never be considered realistic, they are grounded in what is real as she remembers it. For instance, the bridge in her home city in Moldova may look abstract or fantastical, but it is a real structure in a real place. It was a treat to view her art together and listen to Lana tell the story of what her painting represents.
Music is very important to Lana; she often hears songs in her mind that her mother sang to her growing up. When she is painting, she frequently has music playing in the room — if not, simply in her head. Lana is a deeply spiritual person who is also very attuned with nature. She talks of being "of the moon" which she explains as "coming from the moon mentally." More than anything, what strikes me about Lana is the pure passion and love she pours into her work and exudes in her life. She wants people to feel love when they look at her paintings. Svetlana's simple wish is to sit, drink tea and talk about art. What a beautiful way to spread love.
The museum is closed to install new shows during this time, however we will be open for this talk!
To see more of her work, click here.
Register here
---
The story behind
Community Conversations through Art
In its galleries and classrooms, the Danforth inspires and engages through art. Beyond Our Walls—our virtual gallery which highlights artists from Framingham and its surrounding towns — increases these opportunities to inspire and engage. Meeting local artists in person takes this a step further; we feel art is a meaningful way to connect with people we may not otherwise know from our community.
All talks are Saturdays from 2-3 p.m. Talks are free with paid admission to museum. Museum members, as always, are free!  NOTE: The museum is closed to the public during Burinskaya's June 17 talk but the museum will open for the talk!!
Part 1, May 20 — Katie Lee Mansfield
Part 2, June 17 — Svetlana Burinskaya
Part 3, July 22 — Ileana Doble Hernandez
Community Conversations through Art is sponsored by a grant from the Mass Cultural Council.