Ad
u

lt

art c

lasses

cur

rently enrolli

ng fo

r:
Our Faculty Spotlight for the months of May-June is Anna Ryan.
Anna Ryan grew up in Boston, experiencing diversity in religious, cultural, and socioeconomic differences in her everyday life. At the age of 8, her parents took her to a spiritual center in India, where she witnessed both intense poverty and the breathtaking beauty of a world different than her own. "My eyes widened and my heart filled. Throughout my adventures in childhood and then into adulthood my eyes continued to widen, and it became clear to me that creativity was a universal language… creativity and play provided a meeting point for everybody and every voice." Anna's pursuit of becoming an artist and art teacher was not only due to her love of art but a continued need to find these meeting points where everyone is encouraged to show up and share their story. Anna received her Masters in Art Education from Tufts University and the School of the Museum of Fine Arts and began teaching art in a wide range of environments, from museums to community centers and with different ages from children to adults.
Initially, Anna felt more comfortable describing herself as an art teacher rather than an artist. "I found it difficult to make art without the familiar assignment and deadline structure from school, and so placed my own creative practice on the back burner while diving into becoming an arts educator". It wasn't until Anna became a mother and began teaching parent-toddler and pre-k art classes in Northern California that she fell in love with art-making all over again. "My young students' fearless creativity rekindled my passion and dedication to the creative process… and gave me the courage to say 'yes!' to a small studio space that opened up near my home". Now with her own space to create, Anna was able to dedicate time to listen and express her own story, and practice what she had been preaching for years; a playful and explorative approach to art-making that helped push her through the layers of doubt and allow for effortless creation without fear. Anna continued her education and received a certificate in Social Emotional Arts, which confirmed her belief in the healing powers of art. "I have witnessed and experienced, time and time again, how the arts serve as a connector: to self, to each other, to community, and a deeper sense of belonging".
Anna's current work reflects her return to her creative practice, where she is continually seeking moments of awe and wonder, exploring different materials and techniques to bring fresh energy and a playful spirit into her work. She likes to layer and mix mediums; incorporating acrylic paint pens, collage, printmaking, sewing, mark-making, and writing on her typewriter. In her lessons, she focuses on the process of art-making, rather than the product, and carefully prepares for each class or workshop with each student's needs in mind, tailoring the themes and materials used. Anna often incorporates nature, movement, writing, and storytelling in her lessons, and introduces non-traditional tools to keep the process fun and surprising. "I am dedicated to breaking the rules of how art 'should' be made and pushing the boundary of what art 'should' look like".
Anna has been teaching with the Danforth for over a year now and can be found in our children's classrooms as well as in our upcoming Meditation and Mark Making Workshop for Adults, which takes place on Saturday, May 13 from 10am-12pm. She is also an artist at the Mill Contemporary Art in Saxonville as well as a member of the Sudbury Art Association and the Sudbury Cultural Council. You can also join her at the Now LAB maker space at the Goodnow Library in Sudbury or see her upcoming workshops on her website or you can follow her work on Instagram or Facebook.
Selected pieces of Anna's work will be on display in the Danforth School's small gallery space (3rd floor) from now until mid-June. The Faculty Spotlight Exhibition is free and open to the public. Hours for the school may vary, please call ahead to confirm times before visiting. 508-215-5116
Artwork from left to right: The Houses, acrylic and mixed-media collage with oil pastel and paint pen on canvas, 25 x 48″; Ice Cream, acrylic and mixed-media collage on canvas, 24 x 18″; Intuitive + Flowing, acrylic and mixed-media collage with paint pen on paper, 6 x 9″.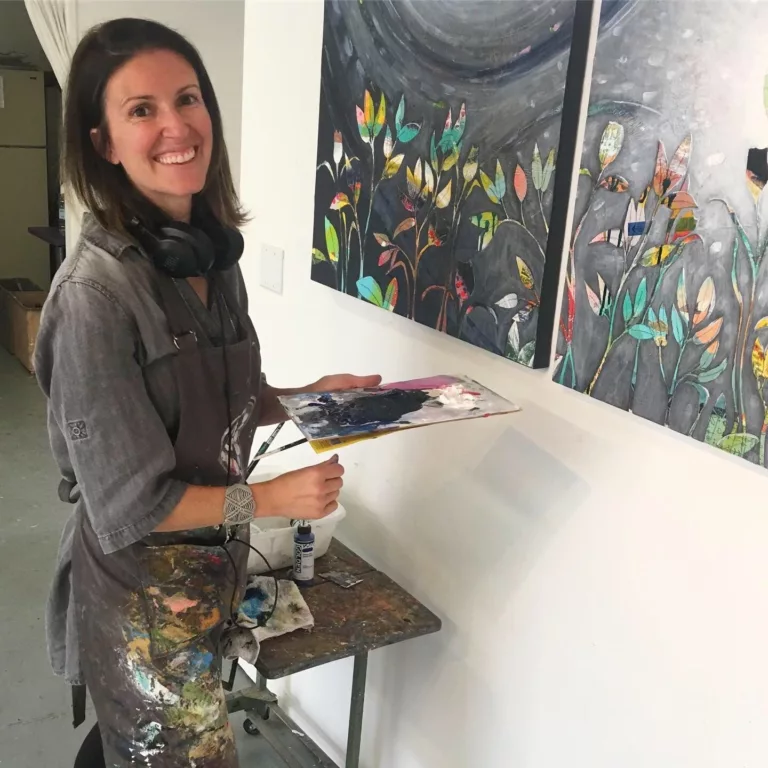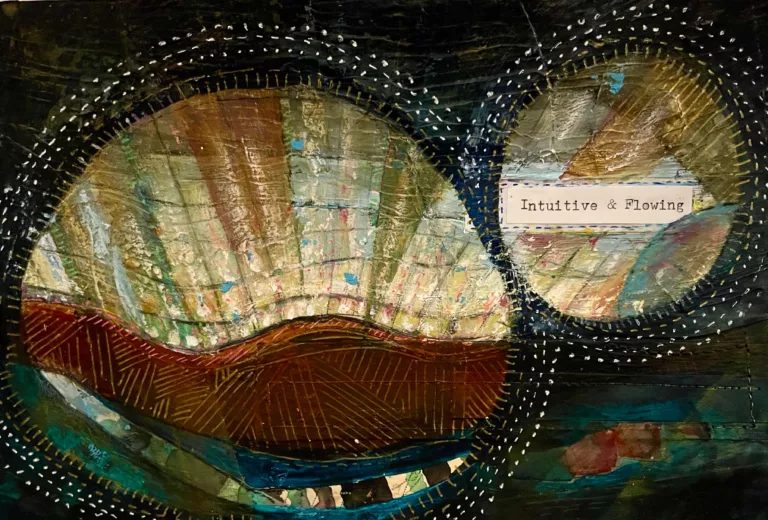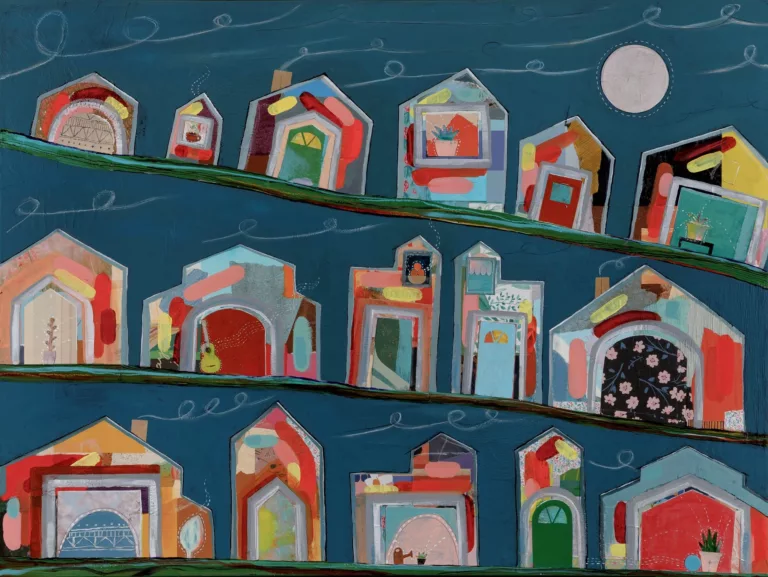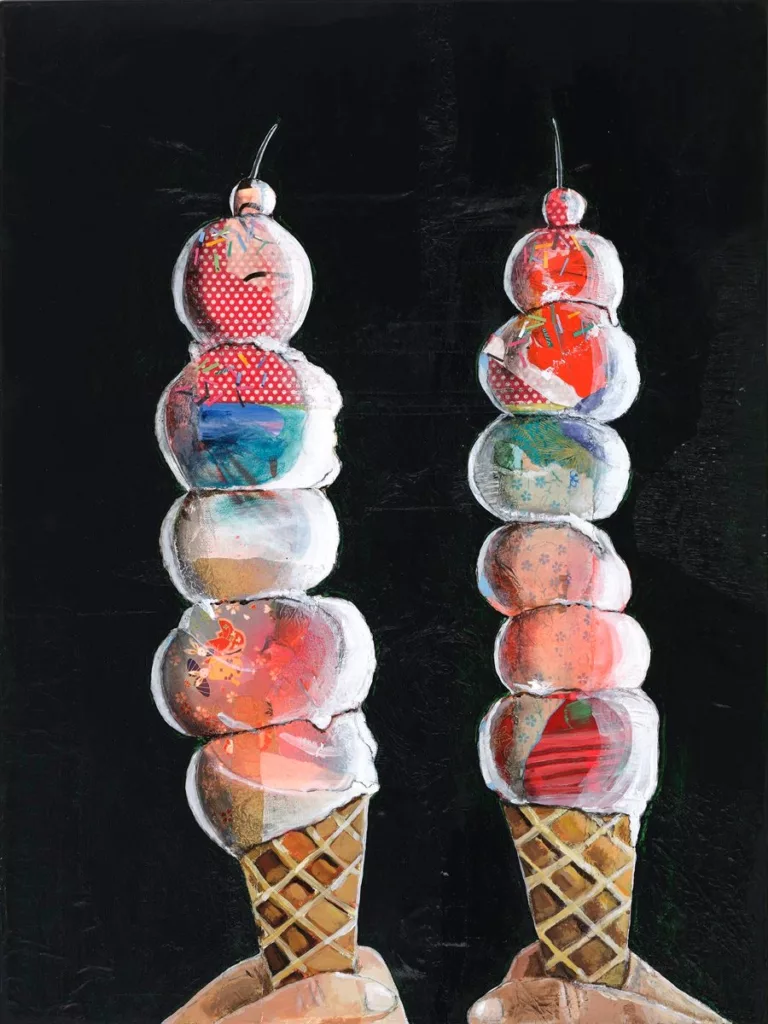 To learn more about our class offerings and to register,  please click on the button to the right.
Donate to the Danforth — Your support helps fund exhibitions, programs and scholarships.