Ad
u

lt

art c

lasses

cur

rently enrolli

ng fo

r:
Due to COVID-19, we can no longer host a public reception for our adult exhibition, therefore we have moved to a virtual exhibition. Please check out our exhibition video!
In the Studio is a collection of our adult student work from this past year's Winter Session here at Danforth. It is our first exhibition of adult student work since our relocation to the Jonathan Maynard Building. We are incredibly proud of the work that our students have accomplished under the guidance and mentorship of our instructors and hope you enjoy this virtual exhibition!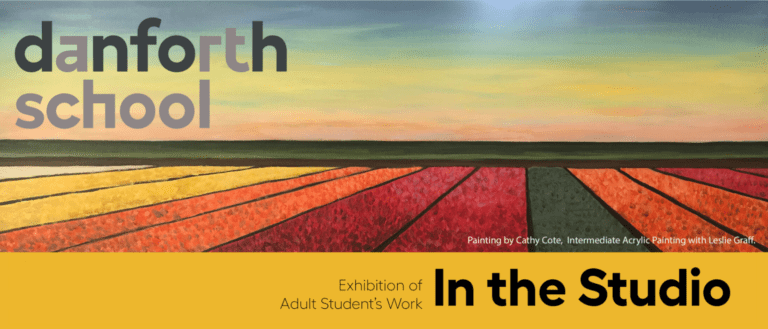 "Welcome! On behalf of the staff and faculty at the Danforth Art School, I would like to welcome you to our first (virtual) exhibition of adult student artwork. All the pieces you see on display here reflect the impressive accomplishments of our students and the exceptional efforts of our instructors. It is a pleasure to see the progression of skills over time and to hear the laughter and learning coming from our studios. Thank you to our dedicated faculty for providing thoughtful experiences for our adult students."
– Noelle Fournier, Director, Danforth Art School
You can also check out images of our virtual exhibit on Danforth Art's Facebook page!
Stay connected! Sign up to receive emails with important news about the Danforth.