Ad
u

lt

art c

lasses

cur

rently enrolli

ng fo

r:
Summer Session
July 10 - Aug. 14
This summer, there will not be full adult art class programming. We apologize for the break in the schedule and encourage you to check back to this page for our Fall offerings which will be posted mid-Summer! We will be offering a special course that will move the drawing studio into the museum galleries.
We offer five levels of study suited to everyone from absolute beginners to those developing their own body of artwork. Students may remain in any level for as long as they would like; instructors will adjust lessons to accommodate new and returning students. Our diverse faculty pool allows students to study painting, drawing and other media with instructors from many backgrounds and perspectives.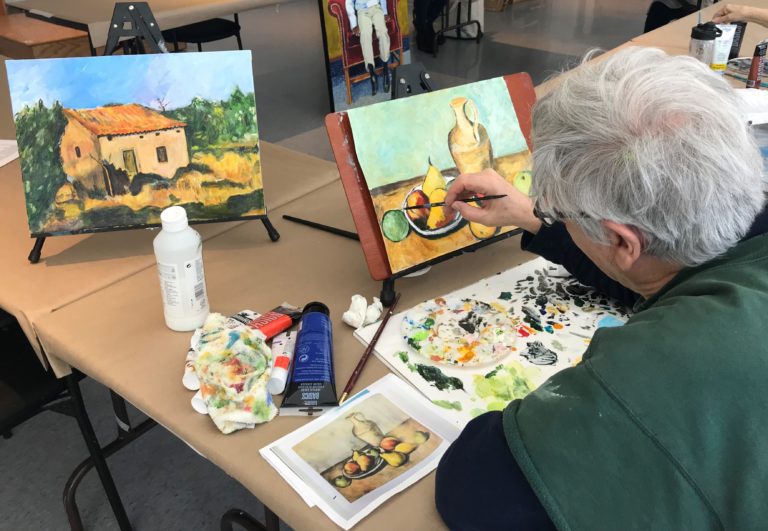 Courses are available for all levels
Registration process—all registration is done using Framingham State University's class registration portal.
Session number + Dates
Instructor(s)
Class
Level
Price
Wednesdays: 10 a.m. - 1 p.m.
Drawing the Collection at the Danforth
Meets 6 Times, July 10 - Aug. 14
Other courses taught by Paula: Beginning Acrylic Painting, Foundations of Acrylic Painting: Experimental Techniques, Collage: Painting, Drawing and Printmaking
Join instructor Paula DeSimone this summer for a new drawing class for adults taking place entirely in the Danforth Art Museum! Taking inspiration from the variety of incredible art on exhibit, students will practice drawing techniques while learning how to carefully notice details in the works. Each meeting will include discussion and critique. Please meet on the second floor in the museum lobby.  Drawing the Collection at the Danforth Supply List
Register For Classes
Stay connected! Sign up to receive emails with important news about the Danforth.