Below are our offerings for Families and Kids. Make sure to check out our Events Calendar for more info and dates!
Event Calendar
Drop into Art is a program for all ages. This event is held on the second Sunday of the month (except for July and August) from 1-4 pm. Interactive tours, art projects, writing activities, and/or games help visitors of all ages explore art objects in special exhibitions and the permanent collection. Each month, the program explores a new subject or theme. Children must be accompanied by an adult.
Free to all. No registration is required – just drop in!  Learn more about the upcoming Drop into Art themes on our Event Calendar!
Upcoming dates for Drop into Art:
September 10, 2023
October 8, 2023
November 12, 2023
December 10, 2023
January 14, 2024
February 11, 2024
March 10, 2024
April 14, 2024
May 12, 2024
June 9, 2024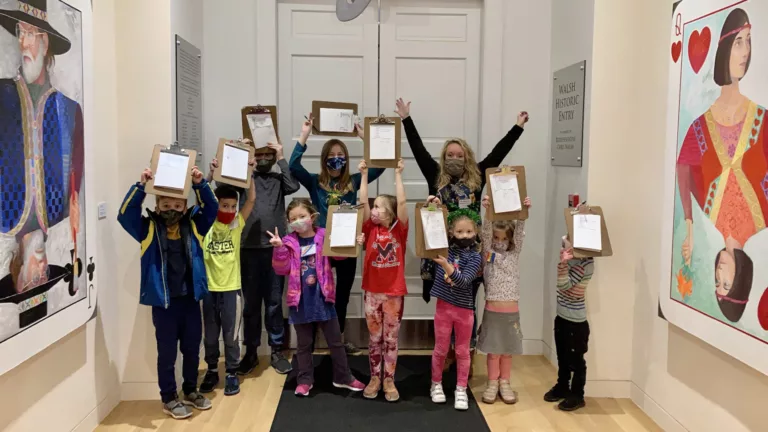 Parents, take advantage of a chance to go shopping or get a bite to eat – it's a night just for the kids with us at the Danforth. Children will enjoy an art project, and a scavenger hunt in the museum! Includes pizza, lemonade and a treat to take home.
This event takes place several times a year and is limited to 15 participants, Grades K-8. Registration is required and tickets are $30 per child.  Drop Off is between between 5:45-6 p.m. with pick up promptly at 9 p.m.
Upcoming Kinds Night Out dates:
Friday, October 27, 2023
Friday, December 1, 2023
Friday, December 15, 2023
Friday, March 8, 2024
Keep an eye out on our Events Calendar for more details and links to registration!
Donate to the Danforth — Your support helps fund exhibitions, programs and scholarships.